Gambrinus 11° Excelent
CheckAlc.com is an online alcohol tester, which will help you find out when your blood alcohol level will drop to zero.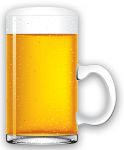 Gambrinus beer comes from Pilsen and is one of the best-selling Czech beers. Beer gained its name from the ancient legend of one of the Flemish king named Gambrinus and began to brew beer for the first time. Drinking alcohol content ranges from 3.8 - 5.1% by type of beer.
Alcohol content 4.7%
Similar drinks from the catalog